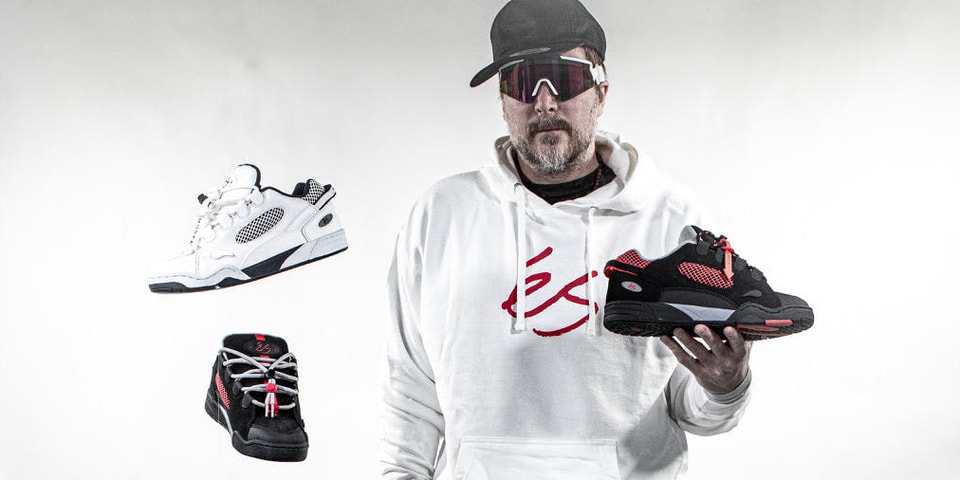 There's nobody in skateboarding history quite like Chad Muska. With his singular flair on the board (see his parts in Shorty's Fulfill the Dream and Transworld Skateboarding's Feedback) and his swaggering style off of it (founding C1RCA and Supra, appearing in the Tony Hawk's Pro Skater series and producing the well-received Muskabeatz album), Muska is in rarified air as one of the most influential skateboarders of all time.
Back in the late '90s, Muska, who, after briefly being homeless when he moved to California to pursue a pro career, was sponsored by Maple, then Toy Machine before fully coming into his own after he left Toy Machine and joined the Shorty's team. Around the same time, Muska signed with éS Footwear and released the éS Muska, a potent, puffy silhouette that was the first skate shoe to be priced at $100 USD and drew from a melange of inspirations, ranging from the Air Jordan 4 to the Superstar.
It was the first taste of Muska's footwear design prowess pre-C1RCA and Supra and, of course, the debut of his now-fabled "stash pocket" detail. Even though Muska was only part of the éS team for two years before leaving to start C1RCA, his first and only signature shoe with the brand essentially went triple platinum, and is held aloft as one of the most memorable silhouettes of the '90s Now, 25 years later, éS Footwear has released the Muska once again.
Reached by phone ahead of the shoe's return, the now 46-year-old Muska was thoroughly warm and disarmingly polite, even apologizing for cursing at one point during his Sole Mates conversation with Hypebeast. "Working with éS really made me feel like I could do anything I set my mind to in the world of product," he says. "Every single day, I'm humbled by the fact that what I did in skateboarding, which I dedicated my life to completely, still means something to other people."
What got you into sneakers?
My earliest sneaker memory definitely predates me being a skater. I think my love for sneakers came from growing up poor and not having nice things. As a preteen and young teenager, I'd use sneakers as an identity, something that helped me feel like I wasn't poor, even if only for a little while. Because of that feeling they gave me, sneakers became very important to me.
Was there a specific model you gravitated towards at the time?
The first decent pair of shoes I ever got came from a Marshalls. They were a pair of British Knights, white with this red snakeskin print. I felt like I was on top of the world with those. British Knights, TROOP and Diadora were my favorite footwear brands back when I was a kid.
Around then, you started skateboarding. What were you skating in? Was it those shoes or something different?
Just generic stuff. This would have been the mid-to-late '80s, and I had some Pro Wings or just whatever I could get at Payless. I tried to skate in Chuck Taylors too, but those were obviously terrible for skating — your foot would be bleeding after like 5 ollies and you'd have to tape the sides of the shoe back together.
A lot of my friends would be skating in shoes that weren't really made for skating, like the Air Jordan 1 or the Dunk, but then brands like Vans, Airwalk and Vision Street Wear that were more specific to skate culture started making a lot of noise, and they pulled me straight in. Airwalk and Vision Street Wear shoes were grails to me. I'd see them on the pros I admired, in magazines and on the shelves at skate shops. I'd just go in and stare at them.
So fast-forward a few years: you move out to Mission Beach in San Diego to go after skateboarding full-time. You were homeless for a while when you first moved out there — sleeping under a tree by the beach — how were you getting shoes to skate in?
It was a bit tough, because I'd previously broken my leg and wasn't healed enough to skate when I first got to California. As you can imagine, the sponsors weren't really lining up for me back then [laughs]. I just had to make do. I honestly can't remember how I got shoes at first. After I was there for a while though and could fully skate again, I'd see other skaters around who'd kick down their lightly-used shoes to me. Jamie Thomas was one of the first guys who started hooking me up with his lightly-used pairs because he was skating for Etnies at the time and we wore the same size. Thankfully, I was able to get sponsored about a year and a half or two years after I first moved to San Diego.
And eventually éS came into the picture when you were skating for Shorty's. How did that relationship come about?
Before Shorty's, I was on Toy Machine, and Jamie Thomas was too. He'd already been giving me his Etnies, and as I was making a name for myself at Toy Machine, Don Brown at Sole Technology [Etnies' parent company] was like "hey, we want to start flowing you shoes too." I eventually moved from San Diego to Orange County, where the Sole Technology headquarters was, and they said they were getting a team together for éS [also under the Sole Technology umbrella] and wanted me to be a part of it. It was me, Eric Koston and Tom Penny, and all three of us helped pick the rest of the éS team.
How quickly did you and éS begin talking about a signature model?
At that time in my life, one year felt like ten [laughs] but it was pretty quick. Koston's signature shoe came out first, and I was wearing his shoe as well as in-line éS models, but we started working on mine pretty soon after I joined the team — I was only on éS for two years before I left to co-found C1RCA.
"Having my shoe properly represent me was so crucial, because I saw a lot of companies creating an image and a likeness for other pro skaters, essentially telling them who they were going to be and how they were going to be presented."
Do you remember how you felt when you were told you'd be getting your own shoe?
I was definitely tripping. There weren't nearly as many skateboarders with signature shoes at the time. I knew it was a very special and important opportunity, that I needed to be involved as much as possible and that my shoe needed to be a representation of me. Having my shoe properly represent me was so crucial because I saw a lot of companies creating an image and a likeness for other pro skaters, essentially telling them who they were going to be and how they were going to be presented. I was very against that and wanted to make sure that anything with my name on it would be a representation of what I was down for. Throughout my career and even today, I've tried to hold on to that with all my pursuits, be it skateboarding, art, music or design.
It's so interesting to hear that companies were forcing an image on these skaters — especially in the '90s, way before the corporate world infiltrated skateboarding in the way it has today — because skateboarding has always been an individualistic pursuit with a lot of powerful personalities.
There are definitely unique personalties and energies in skateboarding that you won't find anywhere else. People like Christian Hosoi or the Gonz are so unique, and will always do things their own singular way. But with that said, a lot of pro skaters are so laser-focused on the actual act of skateboarding that they might not identify with other aspects of the skate industry so much, like having the confidence to stand behind their opinions and demanding that their shoe be a certain way or their board be a certain color. But for me I had to. I've always loved dreaming up these concepts in my brain and seeing them become a reality. Manifesting them has been a driving force in my life. I've never once let a company come to me and say "we're going to do this, this and this, and that's how you'll be presented."
So what was the process of putting together the éS Muska like? Did you know what you wanted right off the jump, or was there a lot of back-and-forth?
I knew exactly what I wanted. éS was really supportive, and that just fueled me to bring even more ideas to the table, which was crazy because I had never shared those ideas with a brand in that way before. Like I'd mentioned before, I didn't have a lot of money growing up, so I'd draw things like cool shoes, new skateboards and nice cars, then pretend they were real, so as an adult to do the same and see the idea turn to a reality was … well, it was something that I guess I'd been waiting for my whole life, even though I didn't realize I was doing so.
One of your favorite shoes at that time was the Superstar, and you saluted it on your design. Can you tell us more about that?
Back then, I was heavy into graffiti too and I loved the Superstar (which I've always preferred to refer to as the "Shelltoe"). I'd skate, breakdance and do graffiti, all in those "Shelltoes," and when it came time to make my own shoe I wanted to have that language in there. I'd never seen a skate version of a "Shelltoe." Vision Street Wear had shoes with a rubberized toe, but nothing was as distinct as that "Shelltoe" look, so I went to éS with that idea.
I'd scribbled some rough sketches on a napkin, which I wish I still had, and I took that to Don and Franc, the in-house designer. We workshopped back and forth, and the finalized version did actually have a rubber shell toe on it. However, I can't remember if it was because we had manufacturing problems or if we were scared of a cease and desist, but we wound up taking the shell toe off on the final round of sampling. There's just one piece of rubber that wraps around the toe, but there are still some lines stitched on the toebox for a callout to the "Shelltoe."
Another key part of the éS Muska was the mesh netting on the upper. Is it true that that saluted the Air Jordan 4?
Oh, 100%. That and the black-and-red color scheme. At that time, I was like "I want to be the f*cking Michael Jordan of skateboarding!" [laughs]. He was the most iconic athlete in the world and was selling the most shoes, so that was my blueprint for what I wanted to do in the skate world.
Nowadays, the connection between basketball and skateboarding is very overt, and brands are seemingly squeezing every drop of significance they can out of it, but back when you were working on the éS Muska, it was more of an "if you know, you know" connection that seemed ahead of its time.
I think éS was definitely ahead of their time in that sense. They were very willing to pull all of those inspirations in to their products, and display them in a way that nobody else was really doing at the time.
So both the Superstar and the Air Jordan 4 got their shoutouts, but we've got to talk about the ultimate signature detail of the éS Muska: the stash pocket in the tongue. How did you come up with that idea? Was it as simple as needing a place to put your weed?
Hey, you said it — I didn't! [laughs]. The stash pocket basically came out of necessity. I don't go out of my way to talk about weed these days, but everyone knows I was inhaling massive amounts of marijuana in the late '90s, and it wasn't legal in California at the time. I'd usually just put it in my sock and needed a better solution, so I was inspired by the side pockets on KangaROOS and this brand from San Diego called Seedless that had belts and pants with stash pockets. Besides that, a bunch of skaters, including myself, were cutting open the tongues of their skate shoes and shoving another tongue inside for a more puffy look. I was like "man, if I can fit another tongue in my shoes, I can definitely fit a secret stash in there."
The idea for the stash pocket may have been born out of necessity, but did you have any idea it was going to be such a thing and catch on the way it did?
I had no idea. All kinds of crazy stuff happened after that. I'd get letters addressed to me at Shorty's and éS, with stories like people avoiding their third strike because of the stash pocket. To be clear, I'm not one for promoting or rewarding illegal activities in any way, but with how weed is viewed now as opposed to 25 years ago, I'm happy that people didn't wind up in jail just because they were having a smoke. To this day, if I'm at any sort of event, at least one person will come up to me and tell me some sort of funny story about the stash pocket. That's pretty cool.
"I had decided I wanted my shoe to be the most expensive skate shoe on the market before we even started working on it."
The éS Muska was the first skate sneaker to retail for $100 USD. Was there any trepidation around that price point?
Nobody wanted to make an expensive skate shoe at that time — it was kind of taboo — but I had decided I wanted my shoe to be the most expensive skate shoe on the market before we even started working on it [laughs]. éS was down too because I had a lot of momentum at that time and my career was really taking off.
You'd mentioned the design confidence you found over the course of this project. How did that carry over when you left éS and founded C1RCA, then Supra?
Working with éS really made me feel like I could do anything I set my mind to in the world of product. I mean, I went from homeless on the beach to being a pro skater, making money and getting his own shoes in only a couple years! That was such a crazy experience that I was like "why wouldn't I be able to do this?" On my learning curve, éS was grade school, C1RCA was high school and Supra was college — or maybe something else. I'm not sure I'm ready for college yet [laughs]. I needed the lessons I learned at each stop to succeed at the next one, and I'm very thankful to have learned everything I did.
"Every single day, I'm humbled by the fact that what I did in skateboarding, which I dedicated my life to completely, still means something to other people."
When the return of the éS Muska was teased back in February, it went viral almost instantly. Is it cool to see how hyped people still are for one of your shoes, even 25 years after it first released?
It's completely insane. Every single day, I'm humbled by the fact that what I did in skateboarding, which I dedicated my life to completely, still means something to other people. I'm also so grateful that I'm still able to survive off that dedication and the work I did over all those years, and that I can put out my shoes, my decks, and get such a response. I'd try to explain what it means to me, but I really don't think I could put it into words.
Why do you think the éS Muska still resonates all these years later, and what do you hope its legacy will be going forward?
It's hard to say without sounding egotistical, and I don't want to toot my own horn, but when I dedicated my life to skateboarding, I was fortunate enough to travel the world and connect with people from different countries, cultures, ethnicities, financial backgrounds, pretty much everything you can think of. I had an unbelievably great time doing it, and I think when positive energy like that is activated, it spreads and it lasts. That energy is still there, and even if it fades it never fully dies off. People will see something from that time and remember that energy because it meant something to them.
Why are sneakers important to you?
Because sneakers, when done well and done with meaning, can offer identity. A sole is just a sole without a soul behind it.
---
DISCLAIMER: We discourage illegal cannabis consumption. Please be mindful of your local rules and laws on the use of marijuana
GDQUN ART原创报道,版权所有 gdqun.com